Cacao Ceremony with Friends
Tips & ideas to bring the magic of cacao to your friends & community
The Importance of Connection

We all need connection. We all need a safe space to be accepted, valued, and supported as we are. We need to laugh, cry, dance, be creative, and generally just be ourselves with those we love. Our friends are a vital source of our own well-being and happiness.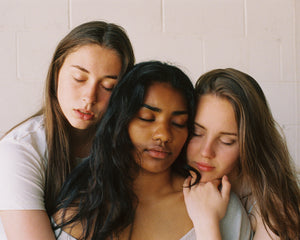 When we have genuine intimacy with others, we are grounded in ourselves, confident that we can take on the challenges of life. Our cup is full and it easily overflows. We know this most clearly from experiences of not having the deep connection and support we needed, and how this affects our self-image, our capacity to show up fully and our resilience. 
"We humans are social beings. We come into the world as the result of others' actions. We survive here in dependence on others. Whether we like it or not, there is hardly a moment of our lives when we do not benefit from others' activities. For this reason it is hardly surprising that most of our happiness arises in the context of our relationships with others.."
~ The Dalai Lama XIV


Why A Cacao Ceremony With Friends?

As a plant medicine, cacao is all about connections. Connection to our self, to each other, to the natural world, and to spirit or higher powers. It strengthens these threads so that we can experience them more clearly and powerfully. Cacao helps us to become more present in a loving, heart-centered way, so the natural affect of this is to increase our sense of connectedness. 
A cacao ceremony with friends is a great way to let love flow more freely and deeply. We often yearn to express ourselves more fully around those we love, and cacao is a great ally in doing so. It can help take friendships to the next level, replace alcohol at a party or bring you to that place of truly seeing each other in all your gifts and struggles. Gathering with cacao in the mix makes that time just a little bit sweeter in a gentle, easy way that can be playful & light or intentional & serious (or both!). 
Our ceremonial cacao is bean-to-bar crafted with organic, high-quality cacao beans. It's cultivated with intention, so you can consume with love. Our cacao is a whole food, with none of the pure bean removed or modified with additives or sweeteners. This makes it a great fit for a ceremony with your friends.
Cacao can be a game-changer for our social life, so be sure to try out our cacao and experience it for yourself.
Suggested Cacao Drink Recipe
We suggest the following to use for your cacao ceremony with friends. Amounts are per person:

1.5 ounce of Ceremonial Cacao
5 ounces of water
Dash of cayenne
Sweetener to taste
Key Aspects To Gathering in Ceremony with Friends

1. Keep it organic: With friends, it doesn't need to be as formal. Let the ceremony flow organically from your connection.


2. Leadership: Be mindful of stepping into a leadership role with peers or a partner, which can create an imbalanced dynamic. 


3. Be genuine: Leave space for genuine connection that arises from your relationships. 


4. Playful is okay: Sometimes cacao can be silly, light and downright goofy! While this is always okay, it's especially so with friends. Don't be too serious or afraid to go with a playful mood
Basic Set Up For Any Ceremony With Friends

• Plan ahead: make sure you have enough high-quality, ceremonial cacao on hand for the amount of people you're inviting.

• Make the drink: brew up a pot of cacao with our recipe above and make sure to serve it hot, ideally with some optional extras, like cinnamon, vanilla, coconut milk, etc to make it extra delicious
• Set the space: think warm, inviting & sacred. You might want blankets, pillows, music and a comfy place to sit in a circle or lie down
• Let it flow: have a plan and then let it go when the love vibe takes over!



There are many ways to have a cacao ceremony with your friends, so here we've suggested 3 easy ways to get started.
Idea # 1 - Intimate Connection
Time: 2-3 hours
Supplies: Your Bestie or Romantic Partner


Doing a cacao ceremony with a close friend or romantic partner is a great way to spend quality time together and even deepen your relationship. If larger groups aren't your thing, or you just want to put some attention on a special person in your life, this practice is for you. 


For this one, we suggest starting with a more intentional approach and invitation to whomever you want to spend the time with. It might get light and playful, but starting this way will give you the opportunity to go deeper if you want. 


Take time to set the mood and space in a way that's supportive of where you want to go with this person. You might want candles, blankets, pillows, an altar, or other items that give you that feeling of being in a nest together. 
Once the cacao is ready to serve, make sure you take some time to share gratitude before consuming it. Set some intentions for your time together. Consider sitting facing each other and using practices such as eye-gazing, deep breathing, and sharing from the heart with a talking object. Find ways to be deeply present with each other and everything that you bring to this moment. 


If you are with a romantic partner, allow space for sexual energy to be present as well. Cacao increases sensitivity to energetics and this can be a beautiful, tantric experience, regardless of if you even touch each other physically!


Leave time for the organic flow of what feels nourishing and natural. Also, make sure to leave time towards the end for integration and reflections. This helps to ground the experience and increase connectivity between the two of you. Close with gratitude for cacao, each other and yourselves. 
Time: 2-4 hours
Supplies: All Your Friends

Invite your friends over for an intimate gathering at your house, and let them know you'll be making cacao drinks to share!


Brew up a pot of cacao, with any amendments to make it delicious (we love coconut milk, vanilla & cardamom for this).


Keep it informal, and think of it like a gathering with friends, only with heart-opening cacao, instead of the booze! Let the energy of the group & the particular relationships guide the time. Talk, share, play games, dance, and listen to music.


If you want something more structured, try a sharing circle where each person gets a turn to share from the heart whatever is going on for them.

Don't fret the details, just gather your friends, share the cacao, and let the magic unfold!
Idea # 3 - Cacao Ceremony With Friends
Time: 2-4 hours
Supplies: 5-10 of your closer friends


This exercise will look more like a regular cacao ceremony and is well suited to a close group of friends that is open to experimenting with new ways of being together, or open to going deeper together. 


Invite 5-10 of your closest friends for a more intentional and focused ceremony. Let them know what that means to you and what inspired you to want to gather in this way. This will set the tone for your time together so that it's easier to drop into sacred space together, at least to start. 


Begin by circling up, setting intentions, and taking a moment to acknowledge the cacao before drinking. As you sip your cacao, go around the circle and let each person share how they're doing, from the heart. No cross-talk, just listening as each person shares. 
From there, consider activities that are less guided, and more co-created. You could have supplies for making vision boards and sharing about them. You could use a talking object to continue your sharing circle, and even add in questions to answer (ex. 'What does feeling supported look like to you?'). You could put one person at a time in the hot-seat and share appreciation and acknowledgements about them. You could put together a playlist for some light movement, dancing, or nurturing stretching. 


Don't worry if it gets playful and silly, as often this is the kind of healing we need! As much as going deep, we need to learn to be less serious and laugh more as well!


Leave time in the end for this one as well for integration and sharing. Integration is like harvesting the gold from the experience, as we put words to what it meant to us. Often these closing moments are some of the sweetest! Make sure you close with some gratitude for yourselves, each other, and of course, the cacao!
Get Started With Your Friends!

Cacao is all about sharing the love! Its essence invites us to live in that space more fully and to share that with others. What better place to start than with our friends! We all want to live in a more heart-centered way and cacao is a beautiful tool to support that intention. As we fill up our own cup, it naturally spills over and bit by bit moves others in that same direction. What happens within, happens without. BE the love you wish to see in the world.
Moses Draper, Co-Founder embue cacao

I've been working with cacao for over a decade and am passionate about sharing the love & beauty that is possible with this medicine. 
Try Cacao Recipes
A morning breakfast on the go
A great way to start your day! This simple...
Melt-in-your-mouth deliciousness