Cacao from the Heart
From Our Family to Yours
Our Story
Over a decade ago, as seasoned explorers in the inner realms and conscientious foodie's, we found ourselves in the tropics, drinking chocolate around a fire. Effortlessly falling in love with everyone at the gathering, we knew immediately there was something more going on than the chocolate we were used to. We had been introduced to cacao ceremony with the use of high quality cacao.
Working With Plant Medicine
We felt an instant connection with this plant medicine and have been working with it since, finding it to be a great teacher & facilitator, as well as an integral part of a healthy diet. After working with this medicine more deeply and visiting the communities in Guatemala where the Cacao comes from, we decided that we wanted to share this beautiful plant and its healing properties with people up here in the north. embue cacao was born as our way of helping spread the cacao love and our passion for all things cacao.
We are a family business and take pride in providing the highest quality cacao we can find as well as exceptional service. We want people to experience the same magic we do.
Our sourcing reflects four main goals & values:
Transparency
Social Responsibility
Ecological Awareness
Ceremonial Quality
Our cacao all comes from Guatemala, a native cacao-growing region with a rich history connected to cacao. Much like wine, cacao crops vary season to season, depending on factors such as rainfall and weather conditions. Thus the taste of each batch will reflect the land and conditions in which it was produced.
Our cacao is sourced from small family farms who embody our values. This relationship offers access to a stable, transparent and high value market so the farmers can make a living wage and be supported in producing high quality cacao beans. The farms are organized as a cooperative that is trained in high quality cacao bean production, from varietal selection to the fermentation & sun-drying process. This ensures consistently high quality cacao.  
We work closely with a craft, bean-to-bar chocolatier who has roots in the artisanal chocolate movement. The cacao is brought from the farm association to the chocolate shop where it is precision roasted, ground and packaged.
The cacao is chosen specifically for its premium quality, including its potency and robust flavor profile. Everything about the processing of our cacao is designed to ensure this quality.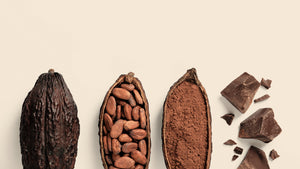 Our cacao is certified organic, so there are no chemicals, including pesticides or fertilizers, used in producing the cacao.
We hope you enjoy it as much as we have!


~ Moses, Ambe and the 4 cacao kiddos
Testimonails
See why our customers love to add embue cacao into their lives.
What is a cacao ceremony?
Cacao is a sacred tradition
Humans have considered cacao a sacred plant for thousands of years. Now you can join the modern rediscovery of this plant and experience the benefits for yourself.
Benefits of Ceremonial Cacao
Deeper Heart Opening and Love

Effortless Focus

Amazing Meditation or Spiritual Practice

Inspiration & Creativity
When consumed in sufficient quantity and in the right setting, cacao is a powerful catalyst for all types of inner work. In a cacao ceremony, we work with this plant medicine to support our healing & growth. When approached this way, cacao will offer opportunities to cultivate greater self-love, awareness and expansion of our consciousness.

Cacao pairs beautifully with many other practices, including meditation, yoga, dance, community circle's and shamanic journeying, among others.