Breakfast Cacao Protein Bar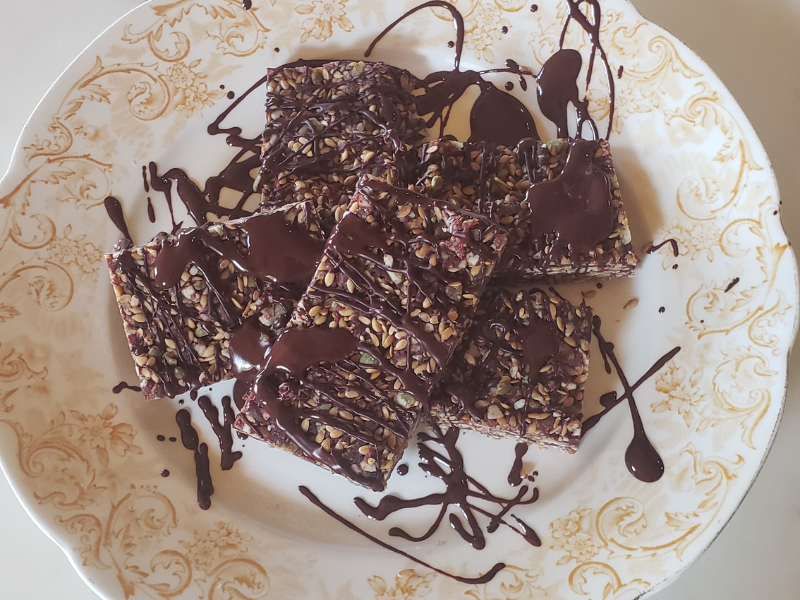 Healthy Energy On The Go!
Make up a batch of these delicious breakfast protein bars so you can grab a quick bite in the morning that will leave you feeling satisfied & nourished. Skip the industrialized powders with additives and fillers, and make your own whole-food protein bars. 
Why we love this recipe with our cacao
Our ceremonial cacao is 100% cacao. That means, unlike cocoa powder, it isn't over-processed & defatted. It's full of nutrients and the cacao butter is still present, which turns these Breakfast Protein Bars into a melt-in-your-mouth-experience. Using these simple ingredients alongside our cacao makes for a healthy & nutrient-dense start to your morning.
Breakfast Cacao Protein Bar
10 SERVINGS
20 MINUTES TO PREPARE
PROTEIN BAR
Nutrient-dense breakfast on the go that is hard to stop eating! These delicious bars are a great whole-food alternative to over-processed protein powders.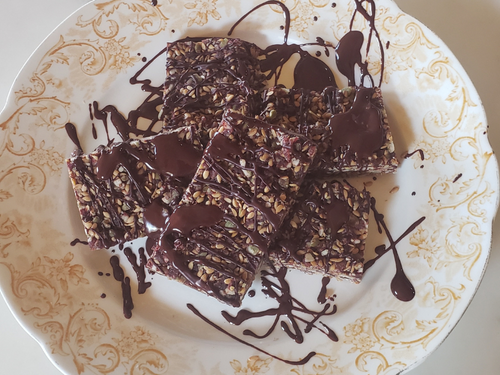 Ingredients
Directions
Line small baking pan with parchment paper.

Combine pumpkin seeds & flax in a food processor and blend until chopped up

Add dates, apricots, beet powder, coconut oil, cacao & salt into the food processor and blend until well incorporated

Press dough into your baking pan and flatten until evenly spread out

Chill the pan for 2-3 hours in the freezer

Melt 6 tbsp of cacao in a double boiler and drizzle over the bars in the baking pan

Remove from pan and take off parchment paper. Slice into small squares

Store in the fridge and enjoy each morning!
Make Cacao a Part of your Everyday Ritual
Jump start your day with a cacao morning ritual. Brew up your morning energizer and try one of the following:
15 Minute Meditation
Gentle Yoga Flow
Journal on Intentions for the Day
Hey, Great To Meet You!
We are a family-owned company. We felt an instant connection with this plant medicine and have been working with it since, finding it to be a great teacher & facilitator, as well as an integral part of a healthy diet.
SHOP CACAO
Other Recipes
Take a look at some other recipes you may enjoy.