Bolivia 3.5oz Ceremonial Cacao Bar
A Limited-Edition Treat! 100% Pure Ceremonial Cacao Bar This Bolivian cacao has its origins de...
Sale price

$ 12.00

Regular price
Description
Our Source
Uses
Shipping
Reviews
A Limited-Edition Treat!


100% Pure Ceremonial Cacao Bar


This Bolivian cacao has its origins deep in the jungle. The variety cultivated was gathered from wild strains by a cooperative of around 500 smallholder farms. To ensure consistently high quality, the cooperative has incorporated high-end management techniques for cacao seedlings, central fermentation & sun-drying. 

Bean-to-bar craft produced with single-origin, organic, Bolivian cacao.


Each square is approximately 0.25 ounces, so 4 squares are perfect for a daily drink.


Experience the direct connection to cacao's jungle origins with this rare cacao. 


Flavor Notes: Classic Chocolate & Fudge with mild dried fruit note. Very low bitter

Itenez Wild Harvest Cacao is from the region around Baures, Bolivia, close to the Reserva Forestal Itenez and the Río Blanco.

These beans are rare, native Beniano cacao from the wild Itenez, Bolivia forests, gathered and processed by local campesinos. All Beniano cacao wild forests are called "chocolatales" in Bolivia.

According to Heirloom Cacao Preservation (HCP) genetic tests, the cacao is 97.3% Beniano Boliviano with 2.7% Upper Amazon Forastero.

This initiative to support collectors of native, wild cacaos was started by Agricultural Economist and General Manager of Rainforest Exquisite Products S.A. (REPSA) Volker Lehmann, who was responsible for pioneering the wild cacao trade starting in 2004, with the goal to increase the quality of the harvest process in order to ensure economic gains for all involved.

The Itenez wild Bolivian beans are very small, but the flavor is robust and pleasantly complex with an earthy and bright, yet chocolate-centric flavor profile.

A very rare and unique cacao bean that must be canoed from the wild to the farm to be fermented and dried. 
With such a rare treat, we highly recommend consuming this cacao as simply as possible. Because it's low in bitters, it doesn't even need as much sweetening.

Try a square straight up, or brew up a drink as follow:
~ 3-4 squares cacao
~ 5 ounces water
~ Touch of sweetener

Froth and enjoy the delicate flavors & aroma!



Summer Notes
Please read our summer shipping notes here.

General
We primarily use USPS Priority Mail as it is the fastest & most economical shipping rate available.

Delivery takes 2-5 days from when you place an order.

Paired with our 10% case discount on 5lbs, the best shipping rates will be at 5lbs, 10lbs, and 15lbs, with 15lbs being the least expensive per pound of cacao.


International

We use the same shipping method for international shipping, so the same boxes and amounts apply. Delivery usually takes 7-13 days from when you place an order. This is assuming there are no delays with customs. We are not responsible for customs delays. Shipping times are also more variable with international ordering, so we do not guarantee the times.

Please note that there may be customs fees associated with your order. We are not responsible for those fees and cannot accept returns based on customs fees being too high. Please check into the fees before ordering
My morning heart pick me up
I look forward to
My mid morning cacao to sit and drop
Into my heart center. When I am in the whirl of working through something I know this beautiful plant medicine will drop me into my center and ground me. So healing and a beautiful
Way to start my day. Thank you Embue
Amazing
I got this bar as a bday gift recently and it was amazing. I already really liked Embue cacao so it was such a treat to be gifted a new variety of cacao by embue, very smooth and delicious !
The Best !
I believe in the power of Ceremonial drink. Embue corresponded to the high quality of cacao I was looking for. My first cup revealed itself to be outstanding. Deep connection and awareness came to be every time I would engage in a Ceremonial event. When I got to my last piece of cacao it was time for me to re-order. Unfortunately, delivery issues became in focus with the transporter. Living on the other side of the Boarder I was sent playing ping-pong from one department to another in trying to retrieve my parcel. Moses quickly came in and took over the file. Shipment finally arrived. I am a living testimony of a great Customer Service. So grateful for his assistance.
And what a delight to renew with the best of cacao ! Deep, rich and embued with a loving field, I appreciate every sip. The perfect experience every time !! Thank you Embue.
On a level of its own
I have been a conscious consumer of chocolate throughout my adult life, always expanding my awareness and refining my palate and appreciation for a plant ally who has a huge benefit to give to my neurology and balance. This Bolivian bar is one of the finest pure bars I have ever encountered. This is far more than chocolate and a single square is deeply impactful in a way I've never encountered. Integrity and intention are a powerful, intangible aspect of real reciprocal plant relationships and they show up in the body of the receiver. It's a privilege to be able to connect in a good way to a plant ally who has been revered for so long.
An important part of my self care
I have recognized the benefit of cacao for my neurology and balance throughout my life. Even as a kid I was drawn to dark chocolate, and began an earnest quest to find the chocolate that best supported me through adulthood. When I connected with this cacao for the first time, what I experienced was unexpected and very deep, and became life-changing. I take plant relationships very seriously and I appreciate an opportunity to connect with this generous ally in a true, reciprocal, and impeccable way at last. Moving from a place of receiving to a place of gratitude and exchange has brought a deep level of healing into my life.
Bolivian Ceremonial Cacao
From Deep In The Amazonian Basin

Connect with this rare treat that packs a classic chocolate flavor with low bitterness. You'll need less sweetener in your drink and you'll love each sip for it's rich tasting notes.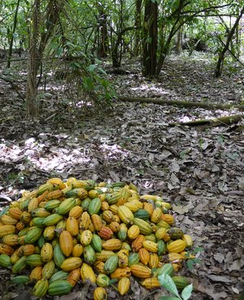 Quality is everything

We are always on the lookout for interesting new sources, and we just love the flavor and experience of this specific Bolivian Cacao, sourced from the Alto Beni Cooperative.

As with our Guatemalan cacao, a transparent supply chain where producers are paid a premium price is an essential aspect of our sourcing.

Central fermentation & drying ensures this critical step is done properly